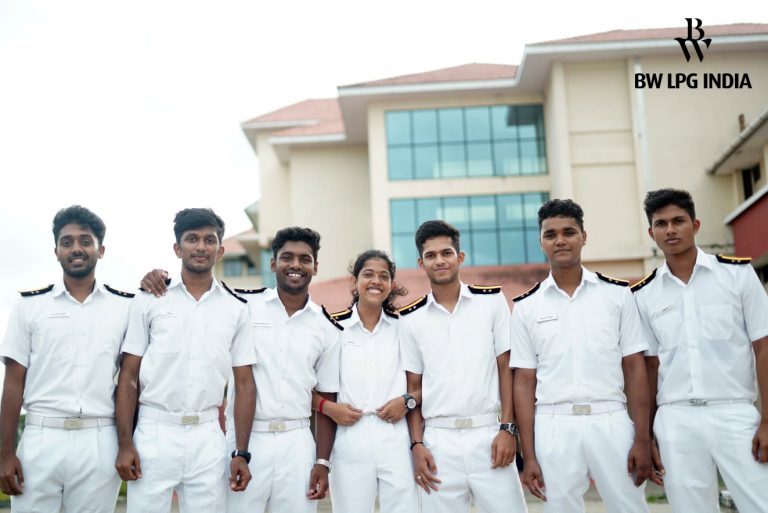 BW LPG India is the first shipping company in India to offer selected female cadets with a holistic support structure for aspiring young female cadets – a bond-free scholarship covering all tuition fees for each academic year that is renewed upon satisfactory academic performance and good behaviour, and guaranteed placement on ships with Synergy Marine Group. Cadets can then look forward to a supportive work environment where Diversity, Inclusion and Belonging are emphasized on shore and sea. The program started modestly during the Covid-19 pandemic with a pioneer batch of nine scholars. Since then, we have grown the program and now support over 40 scholars in various stages of their studies.
We are delighted to have our first scholar to graduate from the University. Corporate Communications caught up with Ms Devija S to learn about her next steps. what's next for our graduate scholar.
Corporate Communications (CC): Congratulations on graduating! What qualifications are you leaving College with?
Devija S (DS): I graduated with a Bachelor of Science (BSc) Degree in Nautical Science from the Indian Maritime University (IMU) Kochi Campus. Other than pursuing a bachelor's degree, I personally feel that I have improved in other areas such as leadership, teamwork, and adaptation.
CC: What are some of your fondest memories of Maritime College?
DS: Everything about college life was memorable, but a recent memory stands out. I remember the preparation put into a vessel visit to commemorate National Maritime Day. The visit was held on April 5 for everyone in the locality and we coordinated the visit and managed the crowd. With teamwork and good communication, the event was a success. Many people were happy with the experience – for some, they were seeing a vessel for the first time, and they shared their delight with us. It was an unforgettable day in my life.
CC: What qualities do you think aspiring scholars should have to succeed?
DS: I believe that as an aspiring scholar, everyone should have qualities like completing a task within the given time, as it reflects our dedication to the task and our responsibilities. She should have good leadership qualities and teamwork skills, as these will help to build good relationships with the rest of the team and facilitate better communication.
CC: Give one example of a challenge you had, and how you overcame it.
DS: After completing my higher secondary education, it was time to choose my intended profession. I had different suggestions from family, relatives, and friends. I eventually decided to become a seafarer and that decision proved my most challenging – I had to convince my parents that a seafaring career was a good one. I prepared materials and spoke with my parents, bringing them through my dreams, the reality of life onboard and the many professional opportunities offered by the maritime industry. They eventually accepted and supported my decision to be a seafarer.
CC: Where are you headed to next upon graduation?
DS: I am now waiting to begin my training onboard a vessel with Synergy Ship Management. I am excited to start my sailing career and I will try my best to be successful. I want to become a captain in the future, so that I can be a good role model and encourage younger generations to join me.
CC: Where would you like to be in three years' time?
DS: In three years, I see myself as an efficient officer who can navigate well. Also, I want to be a better version of current myself with more potential.
CC: How has the scholarship helped you with your educational pursuits?
DS: I am from a middle-class family, and my father who is a taxi driver is the sole breadwinner in our family. Pursuing a professional degree in Nautical Science was expensive for my family and I; and having this scholarship allowed me to focus on my studies, reduce the burden on my father and allowed me to graduate successfully.
CC: Any words of encouragement for younger students, male and female?
DS: Whatever comes our way in life, let us face it courageously. Don't give up on your dreams. Don't be tied down by the past or wonder too much about the future – be in the present, cherish every moment of your life and make the best of it.
Wise words, from one so young! We are all cheering you on. It will not always be smooth-sailing, but with a good foundation and the right attitude, there will always be a solution to any challenge. Fair winds and following seas, our pioneer graduate!