Working with schools to increase understanding of nutrition and healthy eating amongst students.
At BW LPG India, we fund selected community development and local self-help initiatives that have the potential to transform not just individual lives but entire communities. In April 2023, we began a multi-year project to support Nourishing Schools Foundation as they work with educational institutions to increase the understanding of nutrition and healthy eating amongst students, and encourage healthier cooking with LPG.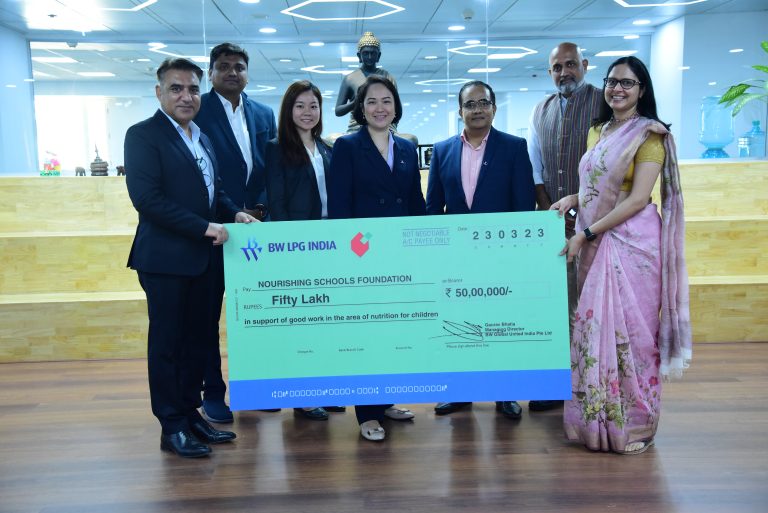 About Nourishing Schools Foundation
The Nourishing Schools Foundation runs awareness campaigns in schools across India to improve nutrition of families and communities using a data-driven approach to monitor and understand the impact of their programs. Nourishing Schools Foundation aims to develop young changemakers aged between 9-14 years who can take charge of improving their own and their communities' nutrition. Originally incubated as a programme within a larger non-profit in 2011, the Foundation became an independent entity in October 2016. The NSF hasworked with public schools and communities across India in the states of Maharashtra, Rajasthan, Assam and Tamil Nadu, reaching over 230 schools and 60000+ children directly using a simple yet proven "toolkit" (box of ideas) approach.
Year 1: Reaching out to ~4,000 Students in Rajasthan
In our first year of collaboration, BW LPG India will sponsor the creation of toolkits and workshops which will be rolled out to approximately 4,000 school children in the fourth to ninth grades in 20 schools on nutrition and cleaner cooking using LPG in Rajasthan, India. 
A baseline survey will first be done to measure the health and nutritional status of adolescents from fourth to ninth grades. The results from the survey will be presented to teachers, schoolchildren and parents, and used to identify priority areas to be tackled by the toolkit. Thereafter, a midline survey will be conducted in January 2024 to assess the impact of the toolkits.
Moving forward, NSF will also explore the possibility of building or modifying LPG-powered kitchens in the school(s) for continued support in Years 2 and 3. 
Read More
– Read about the Nourishing Schools Foundation here.
– Read about LPG and its benefits at The World LPG Association.
Topics: human capital development, students, malnutrition, diversity and inclusion, community involvement, community contribution, local interactions, CSR, Sustainability, environmental protection, technology, clean-cooking